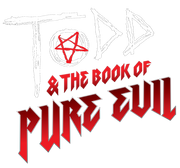 Todd and the Book of Pure Evil is an absurdist Comedy/Horror/Sci-Fi show from Canada. It focuses mainly on the character
Todd
and his friends and foes, and their run-ins with a demonic spell book called
The Book of Pure Evil
. Its main setting is the fictional school of 
Crowley High
.
The show is themed heavily around heavy metal, smoking pot and teen angst. It features lots of crude language, sexual references, and graphic, low-budget gore.
In the typical episode, someone desperate finds The Book of Pure Evil and makes a wish for their heart's desire, but ultimately suffers a tragic fate due to the dark side effects of The Book. The Gang chases The Book and tries to stop the chaos caused by it.
The show was produced by Space Network and started in 2010, but was cancelled in 2012 after two seasons of 13 episodes. It is currently unknown if the show will be picked up by another network. There is a petition on change.org for bringing back the show.
Check out the List of Episodes.
More information
Edit
Ad blocker interference detected!
Wikia is a free-to-use site that makes money from advertising. We have a modified experience for viewers using ad blockers

Wikia is not accessible if you've made further modifications. Remove the custom ad blocker rule(s) and the page will load as expected.